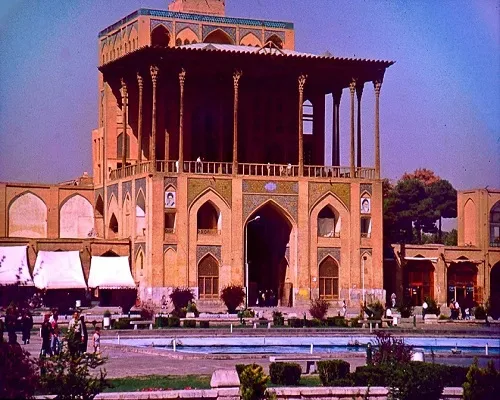 You cannot miss the spectacular view of the square from the terrace of this glorious palace. This six-story palace with its gorgeous patterned pillars and intricate stucco ceiling inside was built in the 16th century as the dwelling for the Safavid king, Shah Abbas I., the Iranian architecture and design of this palace, is enthralling.
This magnificent structure is one of the priceless gems on Naqsh-e Jahan square and it proves its royal status with its exceptional features in the fabric of the building, the exquisite intricacies and embedded aesthetic patterns. There are many beautiful halls with elegant doors in this building; however, a charming room is the Music Hall on the sixth floor. If you take the spiral stairs to this magical hall, you'll find yourself submerged in the splendid magnificence of the miniatures, paintings, and most of all the excellent plasterwork of the ceiling. Reza Abbasi was the great Persian artist and miniaturist who did the plasterwork and created a patterned ceiling with the shapes of vases and Persian rose-water shakers not only to decorate the place but to turn it inherently into a studio. This was the place where unusual guests of the king could listen to the most celebrated musicians of the Safavid era while they were impressed by the eye-catching miniatures around them.
This wonderful masterpiece was not first built with six floors and some halls ware added to the whole structure and built on the other one during years; yet, the harmony and balance are preserved among all the elements of this royal building. Just as the name does in its meaning, the architecture of this building represents the strength and significance of the Safavid kings; "Ali" means of high value and splendor, and "Qapu," which is a Turkish word means gate. This enchanting heritage of the Safavids blows your mind.