The curiosity and the eagerness of seeing new places and getting to know the culture and customs of people who may be miles away from you are only possible through traveling. Of course, the interests of individuals and their preferences in choosing the destination are the first words that do not fall into a multi-page article. In this article, we will answer the question of whether can Americans travel to Iran or not.
Iran travel risk
Among the statistics and figures published on global media every day, we received a new report from the International Health Services Company (SOS). The company has designed a map designating different countries in yellow, orange, and red colors. Yes, each of these colors tells the audience what the company is offering. The most dangerous countries for travel which are shown with dark red, include Syria, Mali, Libya, South Sudan, Yemen, Afghanistan, and Somalia. What color is Iran on this map? A question that immediately comes to our minds. Yellow! Meaning: a country that is wholly safe and not dangerous. So Iran is as safe as UK, Germany and Switzerland!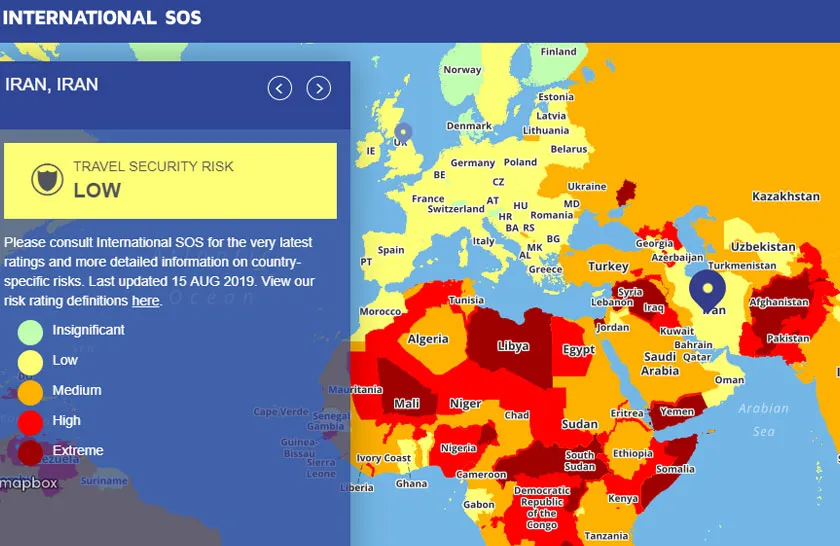 In the past few years, with the opening of Iran's doors and the ease of obtaining visas for foreigners, lots of tourists have come to this country. A country that attracts a lot of attention in the world with its history, culture, and customs. However, it also raises the question of whether Iran is prepared for this wave of foreign travelers or not? Do foreign tourists regret their trip to Iran or, on the contrary, ready themselves for another one to this country? How is Iran so attractive and spectacular to them?
Do You Want To Travel To Iran?

Visit Our Iran will get you whatever you want. Email us at visitouriran@gmail.com or contact us through Whatsapp icon at the botton right of the page. We accompany you in every stages of your trip to Iran.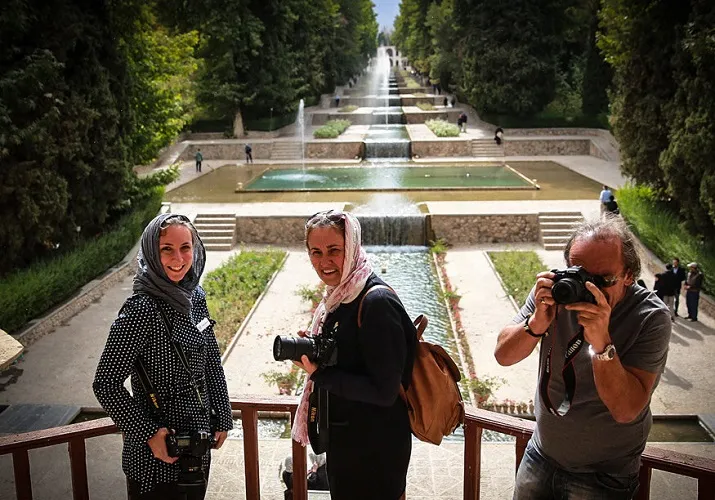 Story of an American; How can Americans travel to Iran?
John is from Puerto Rico, an archipelago in the northeastern Caribbean region of the United States, which is under the sovereignty of the United States and whose people travel with the US passport.
As reported by ISNA, he has seen 157 countries so far and came to Iran three years ago and has just experienced his second trip to our country. He describes himself as "the son of Iran," while his Iranian friends know him as the "American tourists."
He had traveled to Qeshm and Kish before he succeeded in getting a two-time visa for Iran, which is possible without having a permit. At the end of the trip, he provided a report card for Iran. John brought what other tourists might need to know about the quality of the services and infrastructure of traveling to Iran, and finally, he has given them points to have a positive mentality.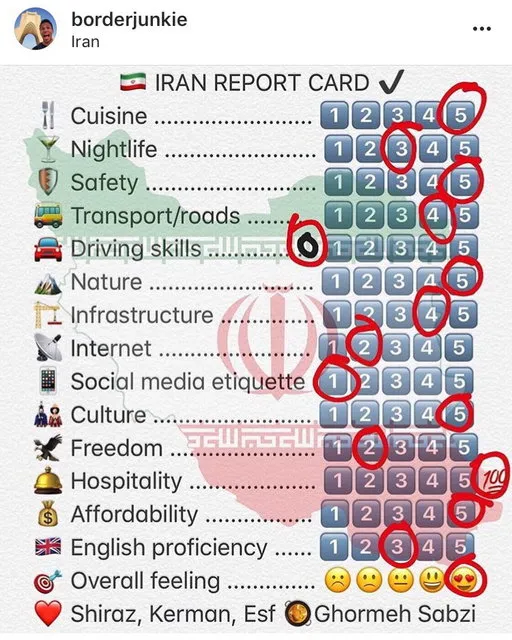 In his previous trip, he also produced a similar report card. This time, based on his new experiences and the facts he found, the recorded scores had a few changes in 2018. "I hope that after traveling over 3,000 kilometers in 75 days, I can show everyone that Iran is not a scary place. And most importantly, the people of this country are not terrorists. They may be terrible in driving, but not in any way terrorists," said the visitor on his Instagram.
He also spoke about the food, nightlife, security, transportation, driving, and travel costs in Iran. John is fascinated by Ghormeh Sabzi. He said that the variety of delicious food is extensive, and in this country, nobody will remain hungry for too long unless they are a vegetarian! His view of Iran's security is similar to that of other foreign tourists who have had the experience of traveling to our country. He knows Iran as the safest country he has ever visited. John also described the access routes well and believes that Iran's roads are in good condition. Despite these positive statements, the tourist described Iranians as the worst drivers he has ever seen.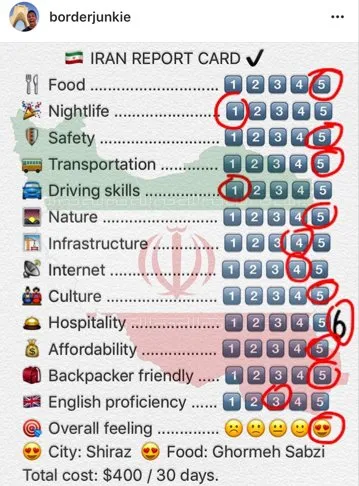 He describes the nature of Iran as beautiful and incredible. And about culture, he wrote the phrase "2500 years old civilization". But that's not true. Civilization and history in Iran go back about 7 thousand years.
Since he has traveled to the south, north, and west of Iran, he visited Shiraz, Kerman, and Isfahan as the most popular cities, although there many overlooked places like Kurdistan.
John gave a low rating to the Internet quality in Iran and believed that the government is monitoring the Internet, which is why it's so slow. He has been traveling for about six years, and he has visited 157 countries in this period. His opinion about freedom in Iran is that Iranian people are free to the degree that the government allows, and unfortunately, that is not much.
Guest hospitality, which has taken the highest score from John, is uniquely described. He introduced the knowledge of Iranian's English language as good but not very good. He recommended to tourists that knowing basic Farsi helps things go smoothly.
From John's point of view, Iran is very cheap for foreign tourists. Although when he traveled to Iran, the dollar was exchanged for about 6 thousand tomans. In general, this tourist described his feeling of positive travel to Iran and made the country a popular destination and recommended other tourists to travel to Iran.
Is it Possible? Can Americans Travel to Iran in 2023
We have provided ten reasons why you should overcome your doubts as soon as possible and answer to this question, can Americans travel to Iran:
1. Iran is safe.
Is it safe to travel to Iran? Whether you are going to Iran in a group, or individually, whether you are a woman or a man, and whether you arrive in Iran by day or night, Iran is a very safe country. A visitor who has traveled to Iran with his friend for two weeks once said that he went overnight by bus from one city to another. According to his observations, since women can travel comfortably in the cities of Iran at night, Iran is a safe country to visit.
2. Everyone is talking about Iran all over the world
Many sources have introduced Iran as one of the most popular travel destinations in the current world. I can only tell you that this is only the beginning of the continuous period of foreign tourists' coming to Iran.
3. Iranian Hospitality
According to Iranian culture, people who live in this country are very hospitable. When you meet the Iranian people from Tehran to Tabriz, they invite you to go to their houses. Of course, the tradition of "Taarof" (salutation) should be familiar to you before traveling. You may face a driver's salutation when you get out of the taxi or a shopkeeper's when you are about to leave the store and say goodbye without paying his money.
4. Iran has ancient ancient history
Persepolis may be the most famous historical place in Iran, but it is not the only authentic site in this country. From ancient Persia to Modern Iran, the country has a long historical journey that you can experience by traveling and observing monuments of various periods.
5. Iranian Architecture
Just by looking at a mosque, a historical house, or an Iranian bazaar, you will see the delicate ornaments. It does not matter whether you are inside or outside of an Iranian building; the Iranian elite architecture is something that attracts you as a visitor.
6. Handicrafts in Iran
Each of the provinces, cities, and even villages of Iran have their crafts. In Yazd, you can buy a beautiful cashmere, buy carpets in Tabriz, and decorative blue tiles in Isfahan. Anywhere in Iran, you can go home with a unique souvenir.
7. Iranian food
From pistachios to black tea, from saffron to kebab, from Mirza Qasemi to Ghorme Sabzi, everything in Iran is addictive. But if you ask me about the most delicious Iranian food, I will choose Pistachios and Baklava. While some Iranian cuisines, such as Ghorme Sabzi are popular and you can find them anywhere, but some foods are unique in some areas of Iran. For example, Mirza Qasemi is a Gilanian food, or Dizy with a lot of meat belongs to Ardebil. You can read about top local Persian foods in our blog.
8. Iran is not an expensive destination (currently)
Whether it's because of the sanctions or the devaluation of the Iranian currency, traveling to Iran is very cheap. A train journey from Tehran to Tabriz is 8 euros, and a bus trip from Ardebil to Lahijan is less than 3 euros. A one-night stay in a 4-star hotel is about 30 euros. You can stay in a royal suite with no extra charge.
9. Iran has a lot of quiet space
In contrast with public imagination, Iran's atmosphere is very calm, and unlike many regions in Italy, you can easily take photos anywhere. The Iranians are very friendly and very happy to be in your photos.
10. Experience a truly reliable trip in Iran
Probably due to sanctions, Iran has little trade with Western countries. It can boast of its products and its various production fields from food to ceramics and textiles. The Iranians also admire their culture and traditions. They never lose the opportunity to explain to you what they might know about a monument, food, culture, etc.