Applying for an Iranian visa isn't for free. At least not for most countries. There are different visa fees for various visitors. The amount of money you need to pay as a non-Iranian depends on the visa type, as well as the country you're from. In this post we're going to focus on the tourist visa for Iran.
At the moment, citizens from the following countries can enter Iran without Visa: Turkey, Egypt, Lebanon, Venezuela, Georgia, Bolivia, Malaysia, Serbia, Armenia, Azerbaijan, and Syria. Needless to say that the list might change in the future and Iranian officials might decide to add more countries to the list. This is true as of 2020.
Visitors from the visa-free list can travel to the beautiful Iran for a certain amount of time. It is as it follows:
Armenia (90 Days)
Turkey (90 Days)
Azerbaijan (30 Days)
Egypt (20 Days)
Malaysia (15 Days)
Bolivia (30 Days)
Georgia (45 Days)
Lebanon (30 Days)
Serbia (30 Days)
Venezuela (15 Days)
However, if you're not a citizen from any of the countries listed above, you need to apply for a visa either in advance or on arrival. Although for some countries it's only "in advance", and you can't get visa on arrival. These countries include: the USA, Canada, UK, Somalia, Iraq, Colombia, Jordan, Bangladesh, Pakistan, Afghanistan, and India. However, if you're not from any of these countries, you may apply for a VOA.  Depending on where you're from, the price varies from 10 euros to 150. In the table below, you can find the complete list of the counties and how much their citizens have to pay to enter Iran.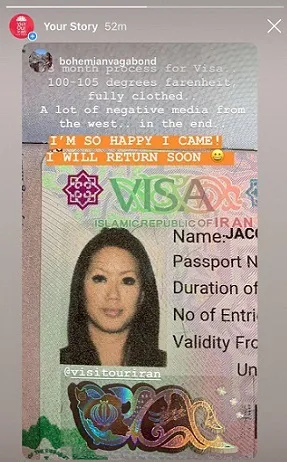 Nationality
Fee (Euro)
Nationality
Fee (Euro)
Algeria
30
Malawi
60
Argentina
70
Malt
75
Australia
145
Mexico
45
Austria
75
Moldavia
70
Bahrain
10
Mongolia
70
Belarus
25
Morocco
30
Belgium
75
Nepal
40
Bhutan
30
Netherlands
75
Bosnia
50
New Zealand
150
Brazil
80
Niger
45
Bulgaria
75
Nigeria
55
Cameroon
60
Norway
75
Chad
100
Oman
75
Chile
120
Palestine
45
China
100
Panama
55
Croatia
50
Paraguay
50
Cuba
75
Philippine
55
Cyprus
75
Poland
75
Czech
75
Portugal
75
Denmark
75
Qatar
75
Ecuador
40
Romania
75
El Salvador
60
Russia
70
Eritrea
40
Saudi Arabia
30
Estonia
75
Senegal
50
Fiji
55
Sierra Leone
120
Finland
75
Singapore
75
France
75
Slovakia & Slovenia
75
Gabon
75
South Africa
80
Germany
75
South Korea
50
Ghana
75
Spain
75
Greece
75
Sweden
75
Guinea
75
Switzerland
75
Guyana
60
Taiwan
100
Hong Kong
80
Tajikistan
30
Indonesia
45
Thailand
75
Ireland
75
Tunisia
12
Iceland
75
Turkmenistan
60
Italy
75
UAE
100
Japan
60
Uganda
100
Kazakhstan
70
Ukraine
80
Kenya
60
Uzbekistan
70
Kuwait
60
Vietnam
100
Libya
30
Yemen
40
Lithuania
75
Zambia
70
Luxembourg
75
Zimbabwe
45
Macedonia
50