Reza Kianian and Mr. Golriz were invited to celebrate World Wildlife Day among the rangers and wildlife enthusiasts in C, explore and visit the virgin nature of this national park, and be a part of the appreciation ceremony for the dedicated wildlife rangers.
On the first day, the group, accompanied by rangers, experts, and the head of this protected area as well as the supervisor of wildlife conservation in Khorasan Province, went on exploring this protected area which is renowned for being home to the largest population of Persian leopards with their 4WD cars.
Through their expedition, the group members could enjoy the sceneries embracing wild creatures such as urials and Persian ibexes on the jagged cliffs, Caspian snowcock, foxes, martens, and wild cats on the surrounding steppes. They also monitored many prey birds, golden eagles, and breaded vultures. "But we were not able to see a single Persian leopard! Well, you should be very lucky to see one with your own eyes here," said Mr. Kianian on his Instagram page.
Reza Kianian, the celebrated Iranian actor, along with Saman Golriz, the famous Iranian chef, observed five Persian leopards as they explored the Tandoureh National Park with a group of wildlife rangers; on the World Wildlife Day.
The appreciation ceremony for rangers was held in Dargaz city on the next day to honor the endless efforts of rangers and wildlife conservationists and celebrate World Wildlife Day. After the ceremony, the group continued their search among the mountains of Tandoureh National Park:
"We went deep into this protected area, brew Iranian tea with fresh cumin picked from the same district on fire and drank together, and later in the evening, we continued tracking the king of this district, Persian leopard. In order to observe Persian leopards at night, you'll have to use a floodlight to throw the light on the rocks and cliffs and see if you can spot any reflected lights through the creatures' eyes. Then, you'll have to check the spot via your binoculars. First, we saw many glowing eyes, but none was a Persian leopard.
But suddenly, we stopped by Saman's warning, telling us that yes, there's one somewhere around. I was very thankful to see that gorgeous creature behind a tree; it gazed back at us with a fierce look in its eyes and went afar. As we were all so happy to make it happen, we noticed another leopard less than 10 meters away from us. It was so close that I could film it with my phone, and then we saw the third one a little farer. My heart skipped a beat once we saw the fourth and fifth leopards not so far from the other ones. One of them was sitting back on its hind legs and licking its paw," says Mr. Kianian.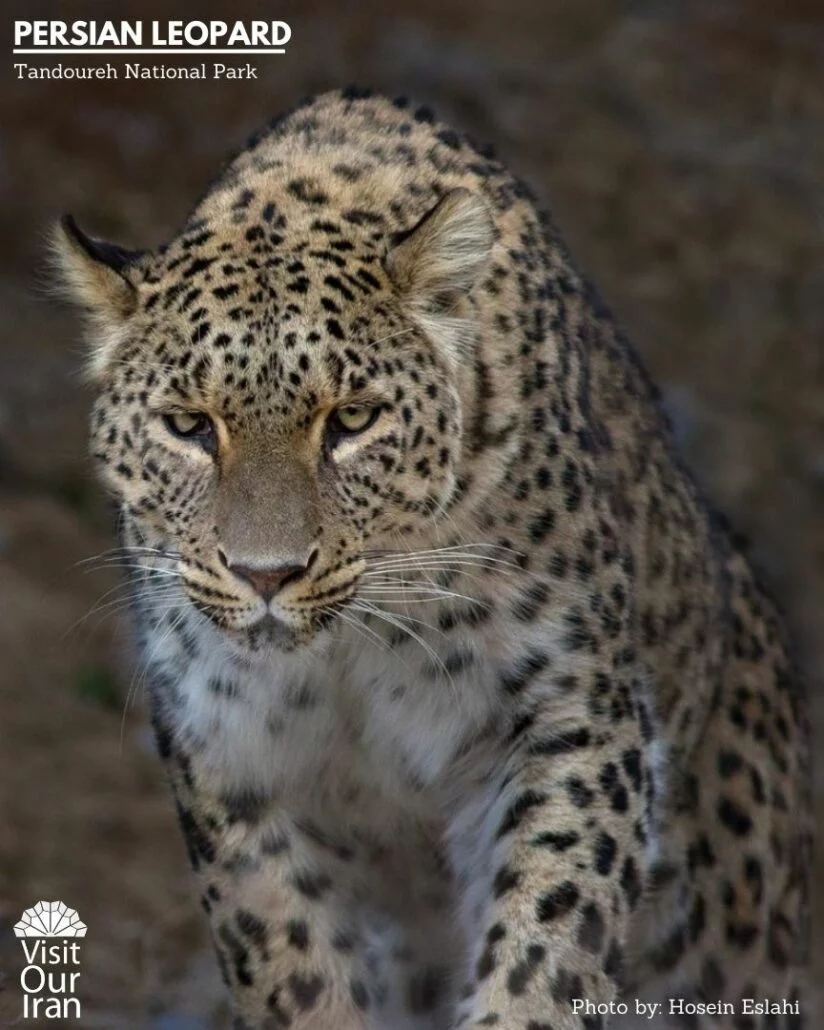 Wildlife rangers play a crucial role in taking care of both the environment and the wildlife in this region. These wildlife rangers are working among rugged mountains and dangerous paths to patrol the area and stop poachers from shooting the wild animals. During the past years, rangers and conservationists have successfully built paths in parts of the park where there was limited accessibility, and poachers took advantage to shoot valuable species. These hard-working people have been able to create a reliable map of the areas where there are more leopards and have been carefully watching these areas to protect Persian leopards as well as the other species.
If you are interested, you can read more about the activities and efforts of wildlife conservationists in Tandoureh national park, as well as other protected areas of Iran in the following blog: