What do you think about skiing in Iran? Although it might seem surprising, Iran is a vast country with different weather conditions in every corner of it, and the temperature varies in its various regions. It can be scorching between May and October, particularly in desert areas, while the mountains experience freezing winters. This provides people with beautiful peaks and powdered slopes waiting for skiers and snowboarders. Iran may be your next ski destination, and you might not know it yet. So why not try some perfect pistes stretching over the slopes of the Alborz Mountain range or trying the untouched powders of Zagros?
Is skiing in Iran any good?
Yes, hundreds of peaks with a more-than-4000-meter height in Iran, the highest of Damavand with 5609 meters (18403 feet) altitude. There are around 20 resorts all around Iran in which not only would you find excitement and pleasure, but also, they provide almost all the facilities needed for an exciting day among the snow powders. Skiing was first popular among those Iranian students who had been introduced to skiing through their graduation abroad and many skilled workers and engineers who were foreign-born in the 1930s.
History of Skiing in Iran
Skiing in Iran has a long history, more than 80 years, but the ski federation of Iran was founded in 1946 (1325), although skiing trails were already populated in Shemshak. Ab-Ali ski resort was the first resort to be equipped with mechanical lifts in 1953 (1332), and now there are seven main ski resorts in Tehran equipped with almost everything you need. What was believed to be a luxurious act of high-cultured people has become popular among all generations as an exciting sport. There is a rush of the crowd coming towards the leading skiing resorts in Tehran on holidays, besides many tourists coming to these resorts every year.
Best time to ski in Iran
Do you want to enjoy the scenic sights while skiing on the slopes of Iran? The slopes of the Alborz Mountains are well-known because of the soft and powdery snow covering them. You may find the pistes crowded, but there are un-tracked fields in each resort that most local people do not venture to step in. There are also training sites in almost all the resorts. The slopes are crowded with Iranians on Thursdays and Fridays, and if you would like it quieter, you would have to skip Nowruz Vacations.
Top Ski Resorts
There are about 20 ski resorts all around Iran, mainly scattered on the two main mountain ranges, Alborz and Zagros. The most well-equipped pistes are those near Tehran, the capital city of Iran. None of the Ab-Ali, Dizin, Shemshak, and Darbandsar ski resorts is more than 70 km away from Tehran. The Tochal ski resort is the closest and easiest one to access from Tehran. A few ski resorts are located in the northwestern corner of Iran, like Tarik Darreh ski resort in Hamedan, Alvares ski resort in Ardabil, and Nesar ski resort in Bijar. If you'd like to ski on the slopes of Zagros, Pooladkaf (Sepidan) is one of the most modern resorts in Iran. Fereydunshahr and Chelgard (Koohrang) ski resorts are also located in the Zagros Mountains.
Dizin Ski Resort
Dizin was the first ski resort in Iran to be approved by the International Ski Federation to run international and official competitions. It is the largest ski resort in Iran, with a base camp at 2650m and ski lifts going up to 3600m offering picturesque views of Mount Damavand. Yes, that means Dizin ski resort is the highest resort in Iran in altitude. It has numerous trails suitable for beginners and intermediates and untracked fields promising difficult patches and breathtaking jumps over the small hills for more skilled skiers. You can easily find hotels, apartments, restaurants, and all the sporting facilities in this resort. The activities in this resort are not only limited to winter; meaning, in summers, you can also enjoy grass-skiing, hiking, horse riding, and playing tennis on weekends. So don't worry, you won't be bored, taking into account all the diversified fields and activities in this ski resort.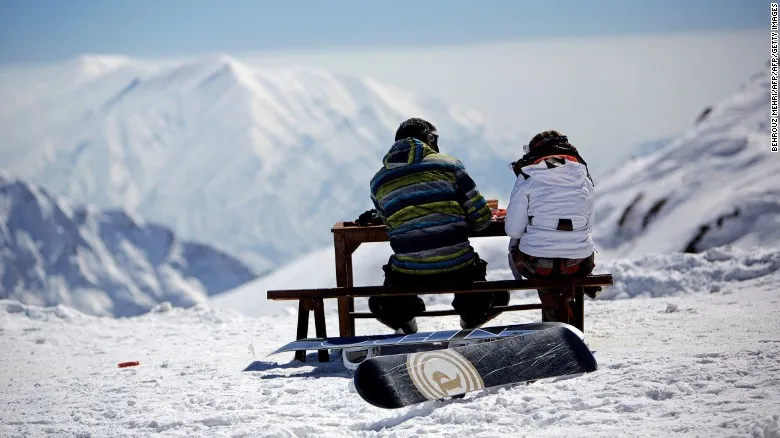 5 Destinations; 4 Days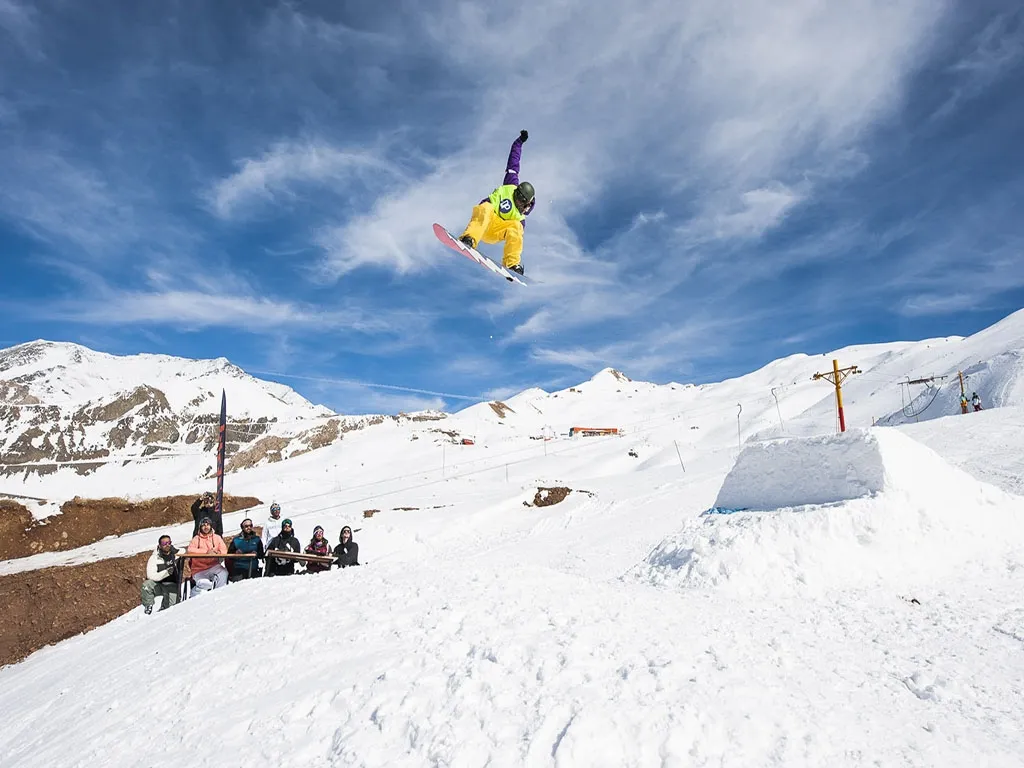 6 Destinations; 5 Days
Darbandsar Ski Resort
Like to ski at night? Well then, Darbandsar is a terrific choice.
You can enjoy the marvelous views of Mount Damavand while skiing from Dizin to Darbandsar. It is the second-largest ski resort in Iran and, of course, the most modern and developed one since it is privately run. Darbandsar is equipped with lifts that take you to an altitude of 3570m above sea level. Moreover, half of its main slope is equipped with snowmakers, and there are lights for skiing at night. If you are an advanced skier, this resort has the most exciting slopes after Shemshak ski resort for you; however, off-piste skiing is not allowed in this complex. This resort is in the middle of the tourist district of Rudbar-e Qasran, which is full of breath-taking attractions such as an icefall that gives you the chance to enjoy ice climbing.
Shemshak Ski Resort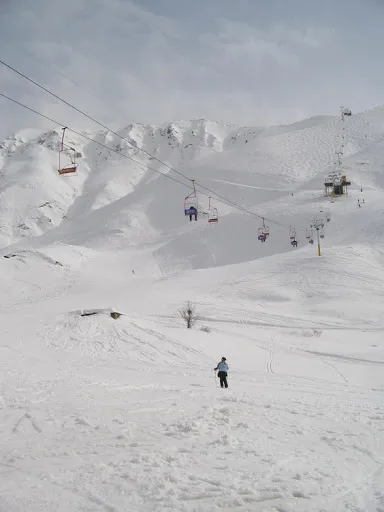 Are you a professional skier craving additional boosts of adrenaline? Shemshak is the third largest ski resort in Iran that is best known for its challenging and black-rated fields, and therefore it is the best choice for advanced skiers. It has two main slopes, each with a chair lift that takes you from 2550m to 3050m above sea level. The place was a fascinating powdery field for rich people even before this ski resort was created in 1958. Although there is not much development in the sport facilities and the place itself, the people are still interested in mogul runs found in this resort. The International Ski Federation also approved this ski resort after Dizin. It is one of the skiing resorts in Iran that provides the skiers with the skiing experience on the white glowing of the snow by the use of lights breaking through the darkness at night.
Tochal Ski Resort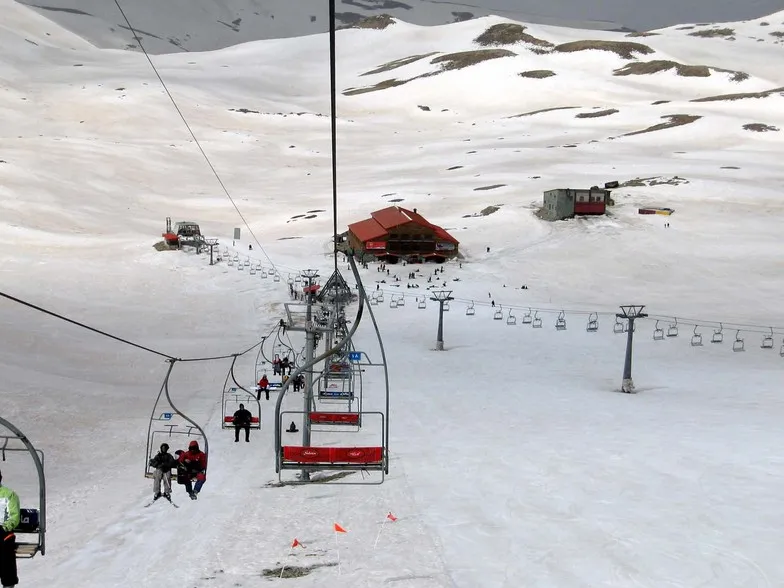 In the highest and most comfortable resort to reach from Tehran, you will be taken to an altitude of 3850m via the Tochal telecabin that offers you the pleasure of viewing the whole city of Tehran beneath your feet. This resort is a part of a much bigger complex containing a diversity of activities for everyone. You can hike or try the zip line, go skiing or snowboarding, or hop on the roller coaster. The ski resort has suitable tracks for beginners and intermediate skiers, and off-piste skiing is limited, but the ski season might last up to 7 months in here! Intriguing, eh?
Ab-Ali Ski Resort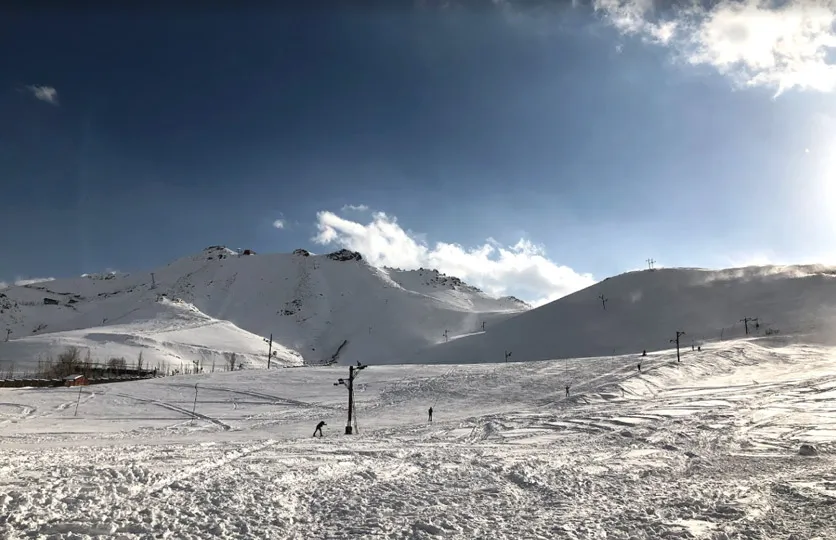 Here is the birthplace of modern skiing in Iran! Ab-Ali was the first resort to have mechanical ski lifts installed in 1953 (1332). With its suitable slopes for beginners and intermediates going up to 2650m, it offers the closest view to Mount Damavand within Tehran's ski resorts. You might find exciting activities other than skiing here, such as trekking, visiting the holy shrine of Imam Zade Hashem, and the beautiful village of Mosha. Ab-Ali is also known for its thermal spring water.
Pooladkaf (Sepidan) Ski Resort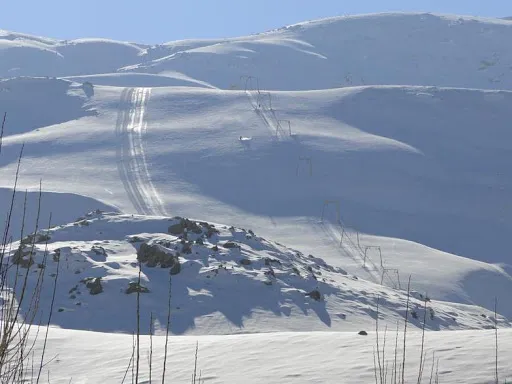 Want to try the slopes of the Zagros Mountain ranges? Pooladkaf ski resort is one of the international resorts in Iran located on this mountain range near Shiraz. There are other activities to entertain you, such as mountain biking, horse riding, hiking, and grass-skiing in the summer, and it has been well equipped with skiing facilities and lifts that take you up to 2850m above sea level. You can also venture for off-piste skiing in this resort, which is the fifth-biggest one in this country.
Fereydunshahr Ski Resort
If you're going to one of the highest cities in Iran, Fereydunshahr, do not miss its ski resort, located on the slopes of the Zagros Mountain ranges in Isfahan. Fereydunshahr ski resort is equipped with well enough facilities and takes you to an altitude of 3050m through two main slopes. There are numerous off-piste tracks that you can reach from the summit. There are restaurants, hotels, shops, skis and clothing rentals, and other activities to do in the place.
Tarik Darreh Ski Resort
Tarik Darreh is one of Iran's most exciting ski resorts, located on the side of Alvand Mountain in Hamedan, west of Iran. It has three main slopes settled into a valley known for its winds. This resort is perfect for grass-skiing in the summer, and on the way to the resort, there is a theme park with many exciting activities such as karting, bungee jumping, and a gondola. The lifts in this ski resort will take you up to 3000m, and there is a chance for off-piste skiing, although you might not be easily allowed to go for it.
Interested in skiing in Iran? Powdersurf the Thrilling Slopes of Mountains in Iran! Check out all of our skiing tours here!
Ski Services and Prices
You can find skis and clothing rentals, restaurants, and hotels in all the resorts mentioned above. Ab-Ali ski resort offers the lowest prices for skiing in a day among all the resorts in Tehran. The prices are also reasonable in almost all the resorts scattered in provinces other than Tehran.
Skis and clothing rentals
Rentals are also available in the resorts mentioned above. All of them are offering reasonable prices, so if you're not a professional or haven't tried skiing yet, you can find Iran and its slopes one of the best places to start with.
Are women allowed to ski in Iran?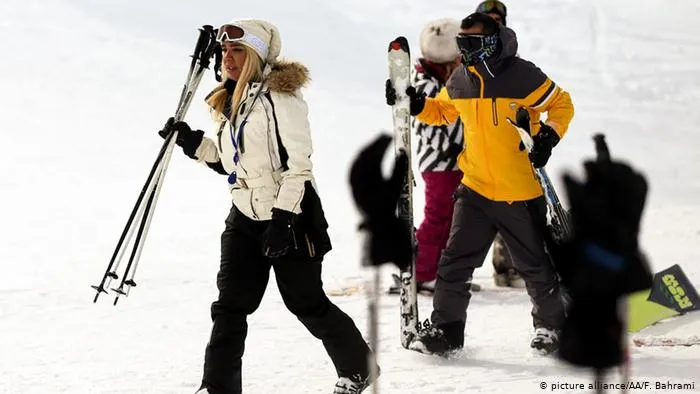 It is absolutely normal for women to ski in Iran. Many young Iranian women skiers head to the mountains in the north of Tehran each weekend and enjoy their time among the snowy powders.