Traveling is one of the most enjoyable parts of everyone's life that can create your best all-time memory of life. Although it is enjoyable, wondering where to go and have fun is the main issue.
These days we see so many travelers that are absolutely amazed to come to Iran. Some also have traveled before and want to return Iran again. Travelers who have found out the different experience of traveling Iran are have come to Iran and had a true experience of traveling Iran. Therefore if your next destination is definitely Iran, or if you are planning to travel Iran as a solo traveler or one of those backpackers who is looking for a new and unique adventure, we suggest you read this article. Here we will tell you more about the safety of female travelers who want to travel to Iran, their experiences and tips to travel. Here we have provided tips and a complete guide for female solo travelers who want to travel Iran.
First of all, we would like to give you brief information about Iran. Iran also called Persia, an Asian country located in middle-east which has over 81 million inhabitants. Tehran is the capital and most populated city of Iran. In addition, the official language in Iran is Persian (Farsi). Isfahan, Shiraz, Mashhad, Tabriz, Yazd, Kerman, Ahvaz are other Iranian cities which have the most tourists and visitors. Official statistics reveal that most tourists visited Iran, say Iranian are hospitable and friendly that you can easily make contact to them and you will not feel any hostile feelings. Naomi, who is a travel blogger from the Netherlands, says that she has not even once felt unwelcomed during her two-week travel. Iran is famous for it is Saffron and Persian carpet (as a souvenir) and beautiful places and landmarks such as Persepolis, Naqshe Jahan Square, Golestan Palace and etc.
When someone wants to travel to Iran he has two main questions. The first thing that a solo female traveler wants to now is about Hijab regulation in Iran. And the second thing is to what extent Iran is a safe destination? Here we provide thorough information for those who have the same question in their mind or want to travel to Iran. Also, tell you more about new experiences and insights of traveling to Iran.
What should female travelers wear in Iran (Iran dress code)
What to dress is the most controversial part of solo female travelers in Iran. Due to Iran governmental regulations, Iranian women must have complete Hijab which contains covering their bodies whenever they are in public. So in Iran, women generally use Manteau (an Iranian piece of cloth that women wear over their clothes to cover mainly their upper bodies), headscarf and jeans or pants. According to their Islamic belief, women must use headscarf in order to hide their hair and not to show off or highlight their body parts by using a tight piece of cloth. It is not obligatory to wear dark color clothes so you can wear your colorful dress and headscarf without any problem. Similarly, you can use any kind of jewelry. If you are planning to travel to Iran it is better to bring some clothes in order not to be comfortable. You can bring a tunic for spring and summer and a tunic and coat for autumn and winter. It is better to bring two headscarves. We recommend bright, soft and colorful scarves, especially in summer which is warm. You don't need a pin, but you can just wrap the scarf around your head. A new experience for many tourists which will quickly get used to it. Manouk explains about her experience of using headscarf here. However, you should not be worried because observations are not restricted to tourist's wearings. Having just a headscarf or hat covering most part of your hair is ok. This is the same as having barefoot or wearing sandals. The only exception is the time you want to visit the holy places especially Imam Reza shrine & Fatima Masumeh Shrine; in this case, you have to wear Chador but do not be afraid if you don't have Chador because they, themselves, give it to you, and you can put it off as soon as you leave the place. Iranians are really gallant and respectful to women. Furthermore, travelers interested in visiting historical places, landmarks and etc. do not worry about these sorts of limitations.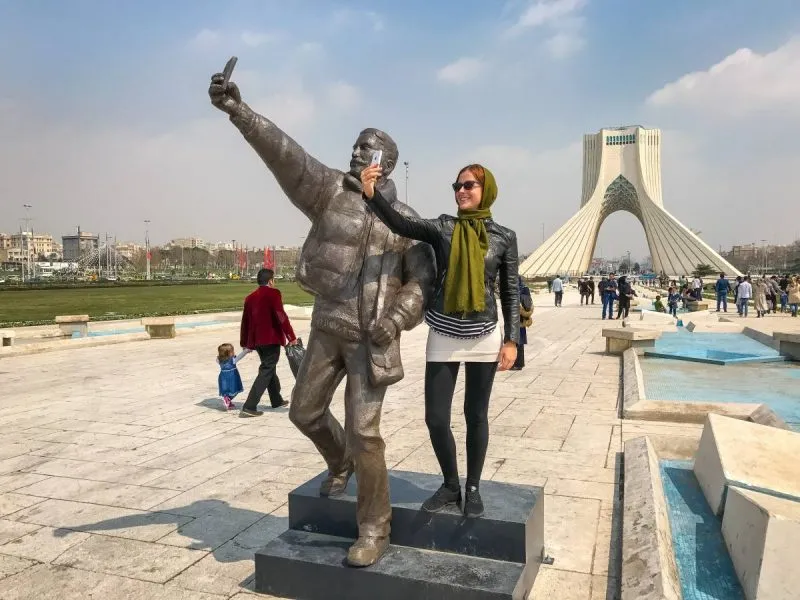 Women in Iran are really safe
Another important issue for tourists, especially solo female travelers is the safety of their journey. They want to be sure that whether or not it is safe to travel to Iran (in general all tourists may concern about the safety of their journey). Iran is one of the safest countries in middle-east among others. For example, even after ISIS terrorist attack which involved many countries like Syria, Iraq, Turkey and even European countries, Iran could control them and in most cases reacted to them in just as they could do anything Moreover, based on the real experience of solo female travelers, Iran is one of the safest countries they have ever traveled. "Iran is safe, accessible and totally easy to navigate as a solo female traveler," Anna explains in her website.
Solo female travelers can book their journey with different touring companies in Iran and enjoy a wide range of facilities they offer to them. Even if you ask those who have this experience, they admit that Iran security system is one of the best, and they have gained and enjoyed a unique experience of all life. Furthermore, we seriously recommend you to call and consult your local foreign affairs office for any suggestion or travel advice.
Transportation
One important part of your journey is obviously transportation. In most cases, you can use your hotel transportation and tour leader facilities which are prepared for tourists and hotel's guests. Besides this, if you are keen on having public transportation experience, Buses and taxis are the most accessible vehicles. Traveling around Iran is safe and easy. You can always take a bus or taxi without a problem. Buses provide a seat reservation and the driver will rearrange the passengers so that no woman sits next to an unknown man (Read more on Travel Girls blog about their experience to Iran). However, it seems using buses is safer than taxis. There are also private taxis with women driver which offers you a brilliant option.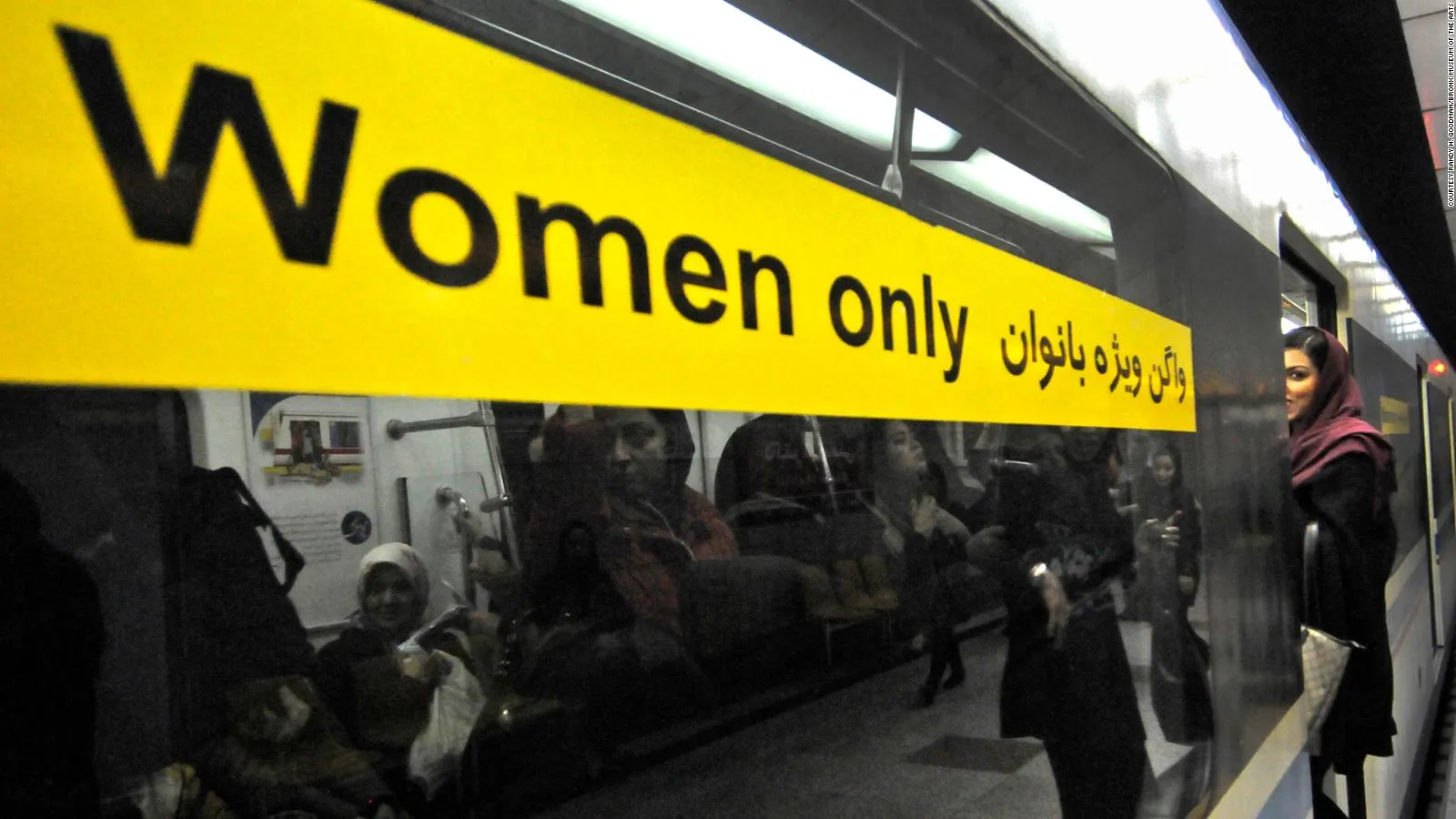 Although some women in Iran use Chador, it is not mandatory. Actually, the observations take it easy. In Tehran and Mashhad, you can count on the subway. In subways, they have special wagons which are assigned for women, you can use them otherwise use general wagons. In every station, there are subway staffs with a special yellow outfit that you can ask for help.
What women must consider while they're in Iran
Although it is obvious that each country has its social rules, tourists must know and respect them in order not to get confused. In Iran like other countries, you find some rules that would be interesting for you. For an instant, as female do not put off your headscarf in public places (It is ok if you do it in your hotel room). Moreover, Swimming pools in Iran are single-sex; so if you want to go to the swimming pool you should check the schedule first. In the same way, we just notice that women cannot use their swimsuits in beaches zones, except special areas considered for females. Mainly, there are 5 popular beaches in Iran in which you can enjoy the spectacular view of the Persian Gulf or the Caspian Sea.
In addition, Alcohol is forbidden in Iran according to the religious rules. So you can't carry anything contains alcoholic drinking in public places nor eat alcoholic drinks. Only by watching videos on beautiful Iran and Iranians interacting with tourists, and their friendly, charming and hospitable manners, You will believe that all the impression from western mainstream media demonizing Iran, is not based on reality.  In this photo, you can see the real wearing of a tourist in Iran.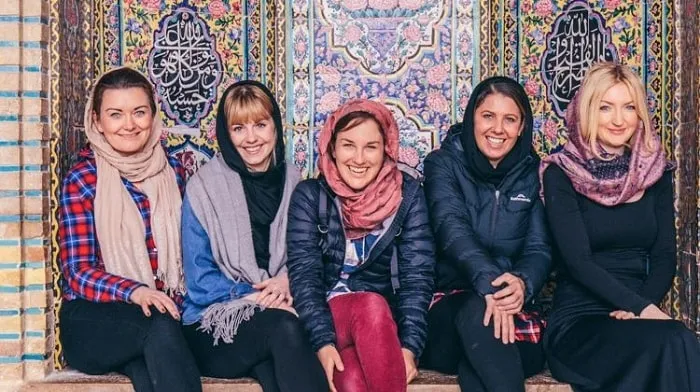 If you are still interested to know more about reading experiences of solo female travelers, we recommend reading Kami's travel blog post: Iran – one of the safest countries I've been to and Wearetravelgirls.com experiences and many other blogs issued by female travelers traveling to Iran.
In the video clip at the top, Mara speaks about her mindset before and after traveling to Iran. Before she started reading more into Iran, all she heard about Iran were stories about its politics & war. In the media, Iran seemed like a place where no one would ever want to visit. But after her trip to Iran, she was so glad that all the FAKE news of western mainstream media was only demonizing Iran and Iran has the most hospitable people with great architecture, culture, music & food. She tells Iranians are so friendly, charming & hospitable with tourists.