Are you an adventurer? Pack your stuff and hit the road that takes you to the spots you can actually feature with "breathtaking". Your breath literally goes short as you get to see the jaw-dropping scenes beyond the high cliffs over the canyons; you did not expect to see that canyon in Iran, did you?
Canyons are nature wonders carved among high cliffs of mountains with water streams moving among their swells creating stunning scenes and Iran has many of them in every corner. Even many locals don't know about the beautiful canyons Iran has. However, canyon hikers know all about this episode of Iran with the stunt steeps and the sensory experiences lying at its heart.
These natural wonders are not only an episode on nature, but they tell us about the history of earth and what it has been through and therefore they amaze you with the serenity lying at the depth of their ponds. Hear their story and join us in this adventure.
Raghaz Canyon; The Beautiful Bride among the Canyons of Iran
Raghez is the best destination for experts who love canyoning, swimming through streams that keep narrowing down and swelling among high mountainous walls, making turquoise waterfalls falling for tens of meters. This sound of nature echoes between two cities of Fars province, Fasa and Darab, in a region called Hasan Abad where 64 waterfalls follow each other to sink into cyanic ponds with a depth of 6m up to 20m. You can either hike up to the spring and enjoy the eye-catching overlooks or venture for the cave-shaped paths or jump over waterfalls with expert equipment to experience pure excitement.
The longest waterfall in this canyon is 65m; so, if you're interested in canyoning, don't forget that you'll need a skilled guide, and equipment like enough rope, wetsuit, life jacket, harness, climbing helmet, proper climbing shoes and all necessary items. Raghez astonishing canyon with its narrow, small holes and wild pigeon's nests in them and natural pools stretches for 4kms. The best time to hike this amazing canyon is between April and August.
Listen to the Heartbeat of Nature
Experience Iran's natural wonders, adventurous off-the-beaten tracks, wildlife, and feel the embrace of Mother Nature by joining us in our adventurous nature tours. Check all the adventure and nature tours here!
Chāhkooh Canyon, The Sinuous Art of Erosion in Qeshm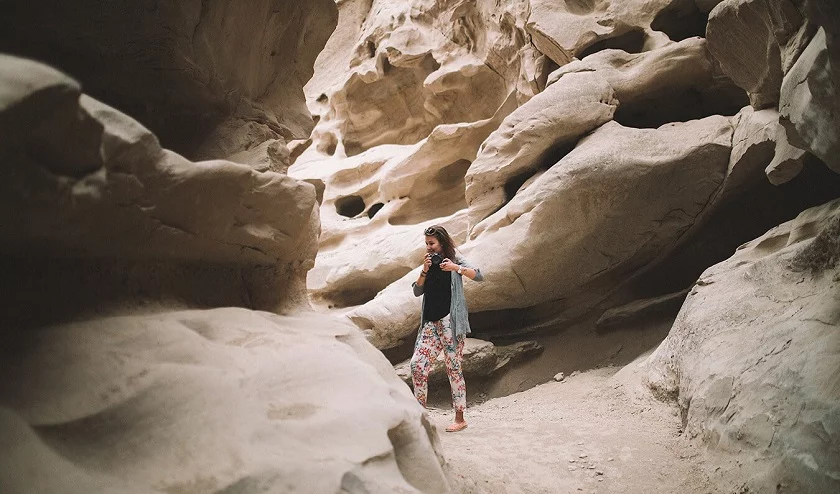 As a part of UNESCO Global Geopark site in Qeshm, Chahkooh canyon is located 15km away from the village named Talb. It is actually the most famous canyon of Iran among both local and foreign tourists and the strange carved shapes of the cliffs and rocks are called to be the magical art of the island and sea that catches many observers' attention. You can climb up among the cave-like halls and find your way to the place where you can capture the glimpse of clear water.
The best time to venture for this photogenic canyon is autumn and winter, because the island usually gets sunburned during summer and spring; however, the high cliffs of the canyon save you if you visit this natural wonder of Iran during hot seasons. Don't forget your rock climbing shoes to hike to the top cliffs and watch the starry night of the island and its mirrored image in the wells.
Hāyghar, The Grand Canyon of Iran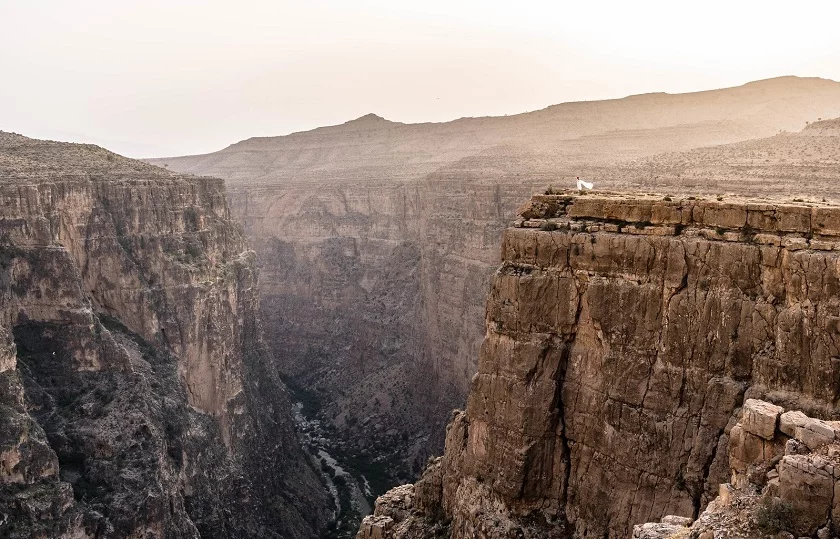 Fars has always been considered as the center to discover Persian history of civilization and its suburban natural beauty is often neglected in the eyes of both local and foreign tourists. One other magnificent natural attraction in Fars province is Hāyghar canyon, known as the grand canyon of Iran for its magnitude. Hearing the symphony of nature in Hayghar canyon while you're standing above the mountainous cliffs with around 450m height and looking down at the gushing water streams is just fascinating.
This magical riverscape extends for about 13km along with the great mountains of Zagros in the region called Firuzābād. The perfect outlooks of different angles aside, you should take enough supplies if you'd like to try scaling and canyon hiking. Most importantly don't forget enough water, for the place is a bit dry; and yet, this particular climate has resulted in particular plant life. The best time to go to this canyon is early in spring and if you're lucky enough, you might be able to see the Qashqai nomads and stay with them for the night.
Shiraz Canyon, The Emerald Dreamy Gift of Earth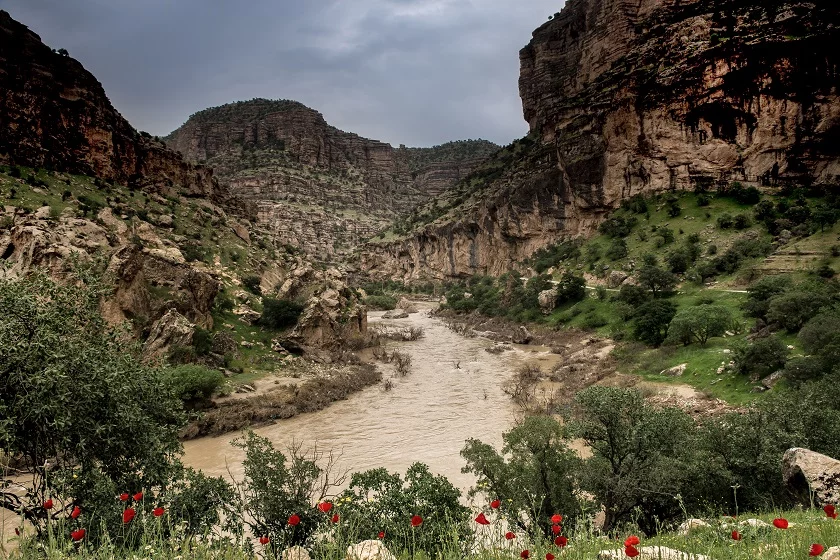 Lorestān has a lot of natural attractions and among them, Shiraz canyon nestled 50km northeast Kuhdasht, is a pristine one. The awe-inspiring viewpoint from its cliffs include giant layers of rock that have been granted with the most beautiful crack and strait inside and Mother Nature has colored their surface irregularly with her emerald brush. Hike through the winding pathways among the sedimentary rocks that stretch for 5km and reach for the glorious sight of the waterfall.
Do not miss the cave that local people call God's Bridge. Hiking and cave climbing here is pretty hard and rated for experts. You'll definitely need enough gear for rock climbing, proper shoes and a flashlight to go inside this 150-meters-long cave since there's a small river in it. This epic canyon with its magical shape and the 80-meters-long minaret of rock is perfect to visit in late spring.
Rāgeh Canyon in Iran, Streams Bubbling at the Heart of the Desert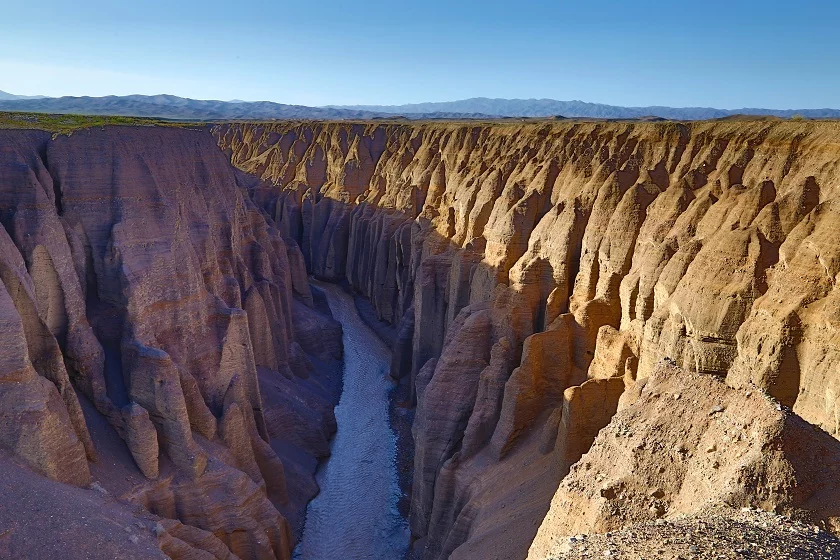 Water springs have brought incredible life to the depth of desert where earth has been artistically shaped through hundred years of alluvial erosion. Not too far from Rafsanjān city in Kerman province lies this startling natural wonder with pathways running for 20km and strangely shaped cliffs in the height of 60 to 100m. What's amazing about this unspoiled canyon is its flexibility: the sinuous hall, arches and the striped walls of Rageh canyon are still changing by natural forces, and a unique wildlife has shaped with the existence of such a life resource.
This fully natural canyon has the age of 20,000 years and for hiking through its pathways, you'll need a guide. Other necessary equipment is not to be forgotten if you like canyoning the sharp cliffs of this natural wonder. Note that you'd have to pass through a very shallow passage of water and canyoning is not recommended in case there's a rainy or windy storm. The best season to visit this magnificent canyon is the cool days of spring and autumn.
Tangeh Sāvāshi (Savashi Canyon), The Canyon with a Trace of History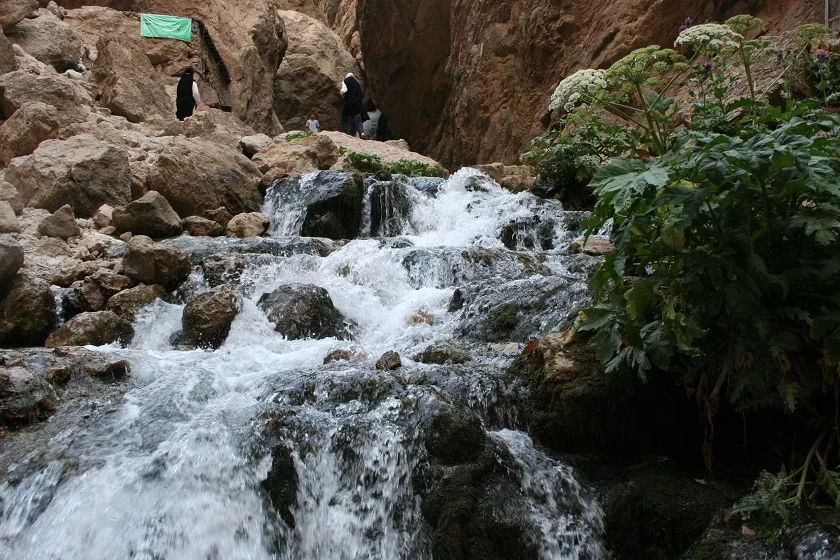 Many local tourists rush out for the two gorges, Vāshi and Sā, in the summer, to enjoy this cool adventurous canyon by walking through the water in the middle. Only 17km away from Firuzkuh, this pleasant nature is located in the capital and is very popular among its residents. This place's natural significance has been doubled by the historical legacies carved in the heart of the mountain from the Qajar era and in such a way, that it has remained unaffected by the sun and rain.
In the northern part of Iran "vash" means grass and that being embedded in the name of this canyon indicates the particular vegetation growing around here; particular medical plants are hosted by these sharp cliffs that picking them counts as crime. These rocky cliffs are as tall to create a cool area; so, summer's the best and most crowded season; you might prefer late calmer spring. There's no danger of drowning, and the paths are not really challenging, but make sure to get proper shoes for rock-climbing or passing through the water.
Kāl-e Jeni Canyon, The Valley of Genies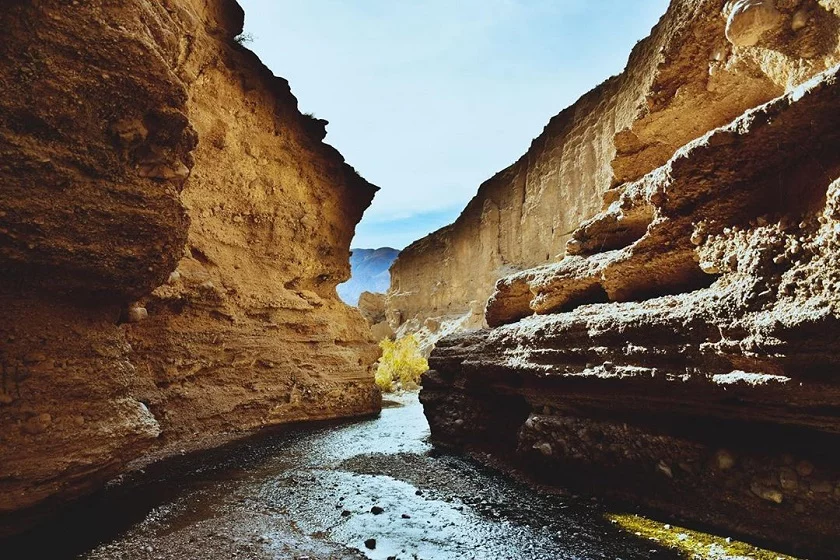 In the northeast corner of Iran, the mysterious Kāl-e Jeni canyon is located in the city of Tabas, Razavi Khorasan province. The odd looking curves and columns in this canyon has caused the local people to attribute this astonishing place to jinns. The sinuous erosions of this canyon date back to the Sassanid era and there are archeological traces of Zoroastrians using its tunnel-like cavities as their houses called Gabars.
In the heart of this structure, streams of life have flowed and created clear blue ponds. If you're an expert, rock climbing is perfect among these weird cliffs, but you'd better be accompanied by a guide or friend at least; canyoning alone is not recommended. Autumn and winter are the best seasons to visit this hot, arid area.
Tang-e Boraq (Boraq Canyon), A Little of Heaven in Fars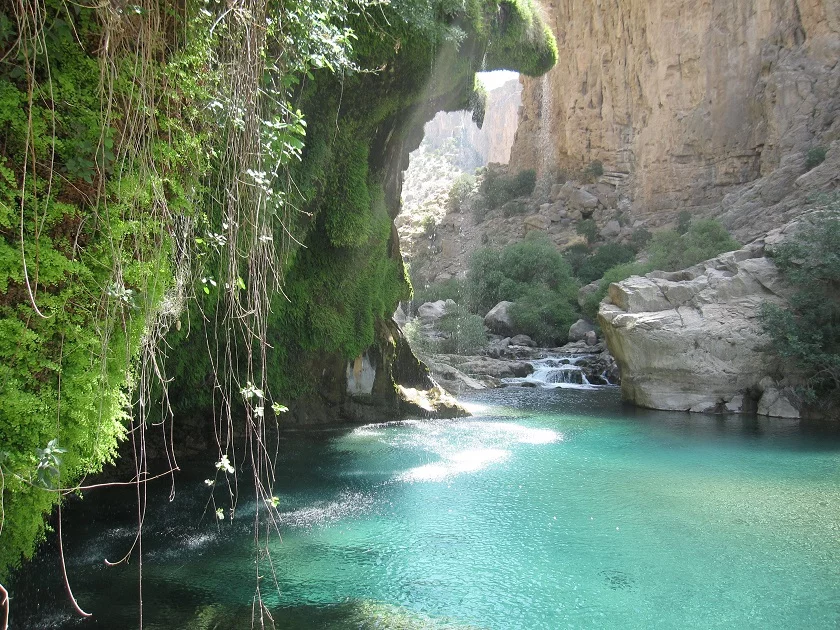 Another jewel hidden in the lush plains of Fars province is Tang-e Boraq or Boraq canyon nestled near a village with the same name. An amazing nature has roofed over the azure blue pond of this canyon and oak trees and tall mountains have embraced its beauty. The rocky walls around this canyon roar up to 300m and have preserved a Sassanid inscription describing the king's hunts in their heart.
Being 20km away from Eqlid and at a height of 1940m above sea level, spring and summer are the cool, perfect time to venture for the cliffs around the waterfalls. This natural attraction has become popular among the local people of Fars recently and might be crowded sometimes.
Buchir Canyon in Iran, The Spectacular Natural Gift in Hormozgan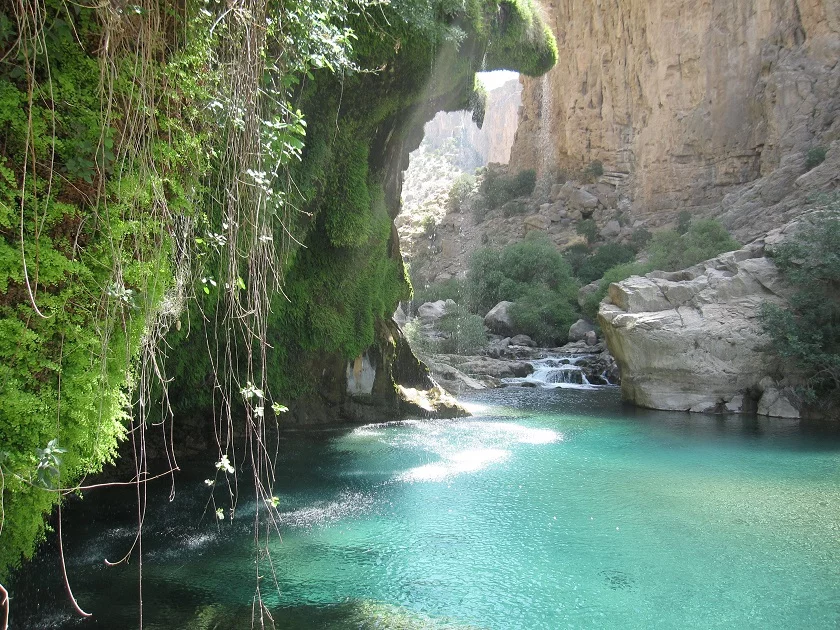 This unique site in Hormozgan is located on the east side of Parsian city and although the area is generally dry and hot, inside this amazing fracture on earth you'll find yourself in cool, fresh weather caused by streams of water. Canyoning this natural gift includes passing through cave-like narrow pathways that need expert equipment and guidance.
The color of the natural pools in Buchir canyon calls your attention to a perfect swimming and the excitement of jumping into them is what you must experience. Expert canyoning tours coming to the region usually include both Buchir canyon and Darzoo canyon in Bushehr because both of them are amazing to go in autumn and winter.
Chāk Rud Canyon, The Paradise of Rock Climbers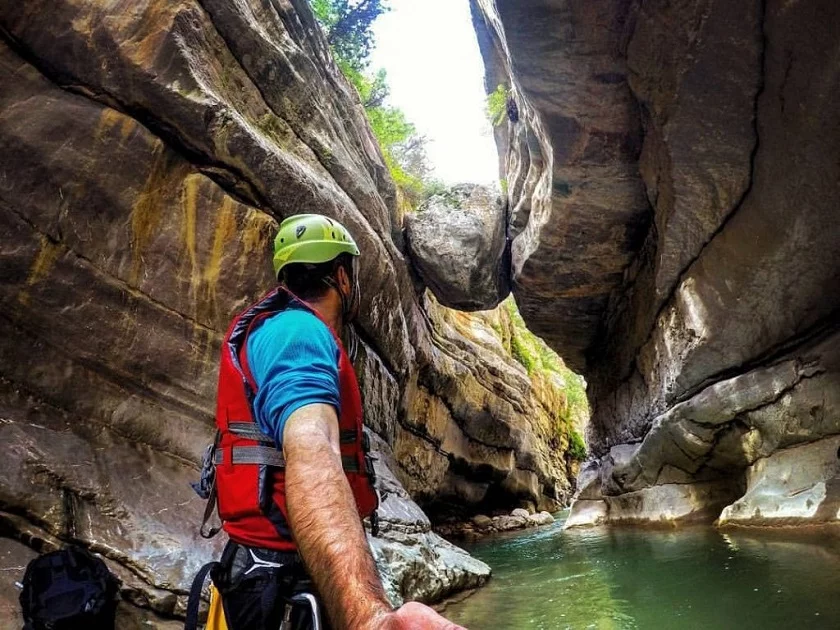 This beautiful v-shaped canyon nestles in the northerly parts of Iran, near Rahimābād village in Gilan province. The striped layers of this pristine canyon with the fresh stream in between can be named after the paradise of rock climbers. The lush green hands of Mother Nature have multiplied its beauty and jumping into the pool in which the waterfalls sink can be an extraordinary experience of yours.
The highest waterfall in this canyon is 30m long; therefore, you should have the proper equipment such as wetsuit, helmet and lifejacket and more importantly, have an expert with yourself to dare canyoning here. Note that going alone to this paradise is not recommended for its high level of difficulty. The best season for canyoning in Chak Rud is summer and autumn.
There are many canyons in Iran and in different geographical coordinates. There are those like Gazak canyon in the North and those as famous as Chahkooh in the South. Consider climate change and seasonal weather while you're choosing. And most importantly, you'll need proper gear, no matter which one you're going to visit. If you're still undecided which one's your ideal canyon, you can trust our consultants. We arrange group tours and private tours to every one of these canyons and we provide you with all necessary requirements and experienced local guides with whom you can breathe in the pure nature and venture for the fantastic adventures in Iran's most fascinating canyons.