Most of Islam's sacred sites are in the Middle East, Mainly in Saudia Arabia, Iran & Iraq. Some of these certain places which are essential in Islamic history are in Iran. Iran has a plethora of holy places and shrines that religious people from around the world want to see these special spiritual significances. In this post, we talk more about 7 top religious cities and sites, that helps you plan your religious Iran travel itinerary. 
Religious sites in Mashhad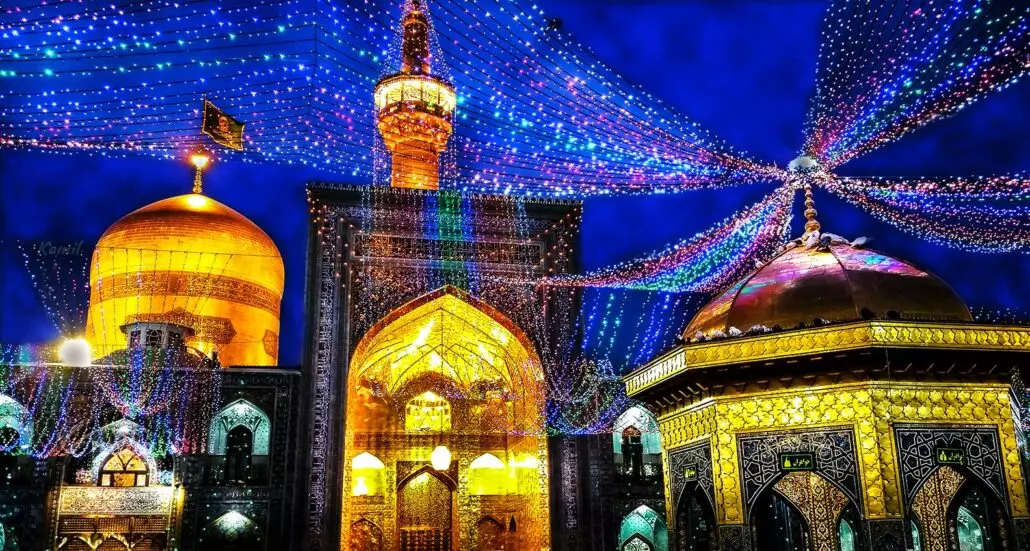 Mashhad is the second-most populous city in Iran. Located in North-East Iran, Razavi Khorasan Province, it is also called the holy city of Iran. It was the cultural capital of the Islamic world in 2017. Due to its unique tourist attractions, each year, several million people visit Mashhad. The majority of visitors are religious travelers. It is the first and foremost home of Iran's "pilgrimage tourism" city. Mashhad hosts the tomb and shrine to the eighth Shia Muslim, Imam Reza. He is buried in Razavi Khorasan, Mashhad, where every year millions of people visit his tomb on a spiritual trip called Ziyarat which means visiting. You can learn much more in our blog about the culture of Ziyarat in Iran.
Imam Reza Shrine is the largest mosque in the world. There are three religious sites in Mashhad: Imam Reza Holy Shrine, Goharshad Mosque, and Khaje Aba Salt Shrine. Goharshad Mosque is one of the famous mosques in Iran; it is a sample of Iranian art and traditional architecture. It was built by the wife of Shah Rukh of the Timurid dynasty. This mosque has eight yards one of them named "Maghsure Lawn" which is the most glorious yard. In the Maghsure Lwan's walls, there are great inscriptions that have been built by Goharshad's Son. On the walls, you can see the structure date of the mosque. Khaje Aba Salt Shrine, the third religious site in Mashhad, is the tomb of Abasalt Haravi, a disciple of Imam Reza. You could enter this shrine through four different doors to see the various decoration of the monument with seven-colored tiles.
Religious sites in Qom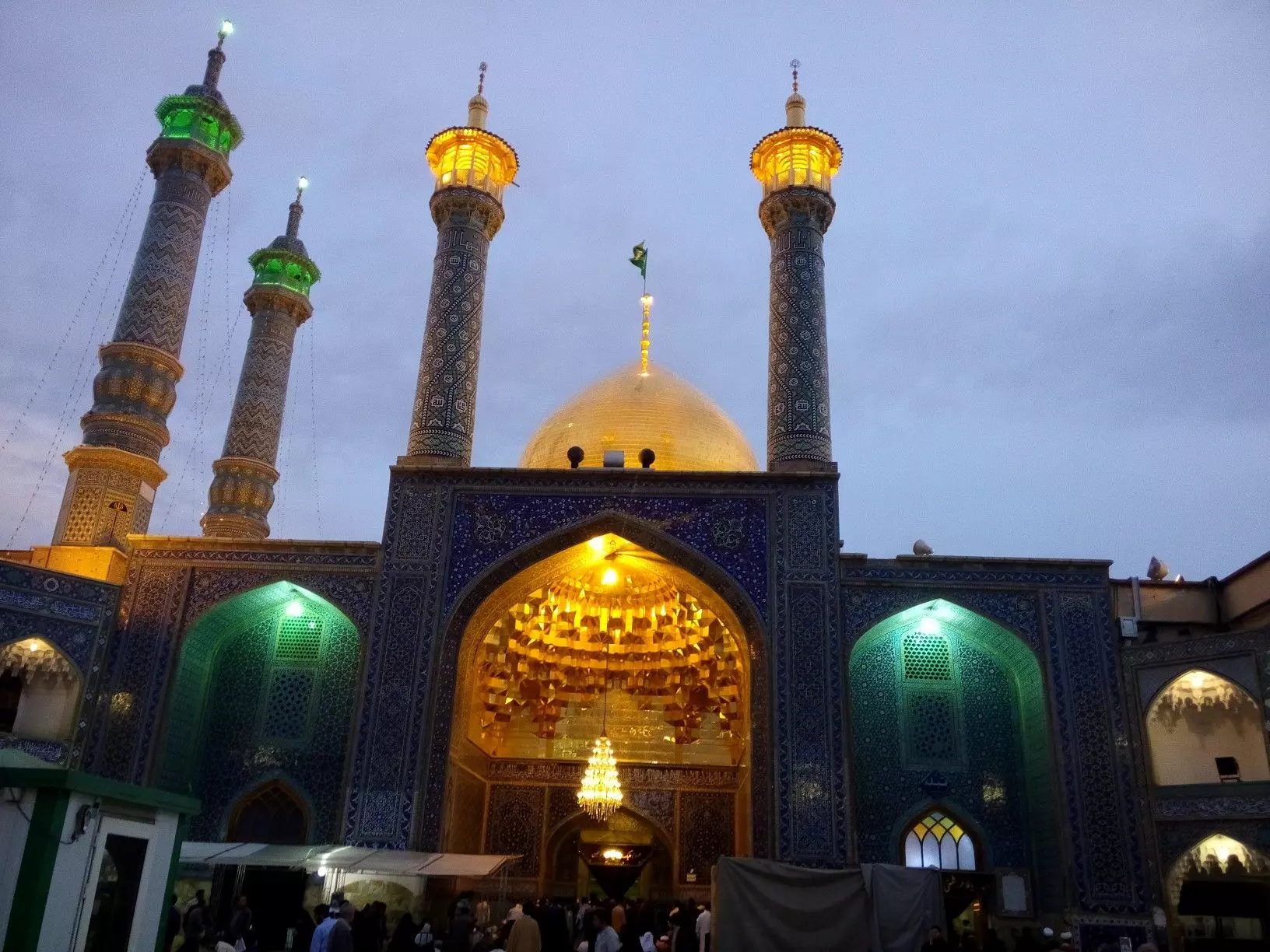 Ghom (Qom), the capital of Qom Province, is the seventh most populous city in Iran inhabited by more than 1 million people. It is holy since it hosts the Holy Shrine of Masuma-e-Qom, Fatimah Bint Musa, the sister to the eighth Shia Muslims Imam, in Mashhad. Qom is one of the fastest-growing cities in Iran. The population has doubled since the revolution in Iran. Qom is also famous for its many prestigious Islamic schools for Shia Islam. Other sites in the city frequented by Pilgrims visits include Bait-un-Noor, where Masuma-e-Qom passed away and Ayatollah Marashi library which houses ancient Islamic Manuscripts and works. Chehel-E- Akhtataraan is another site in Qom where forty Imamzadas have been buried here. Another touristic site in Qom is Bibi Shakeesa Tomb, a lady who devoted herself to serve the holy Imam.
Religious sites in Shiraz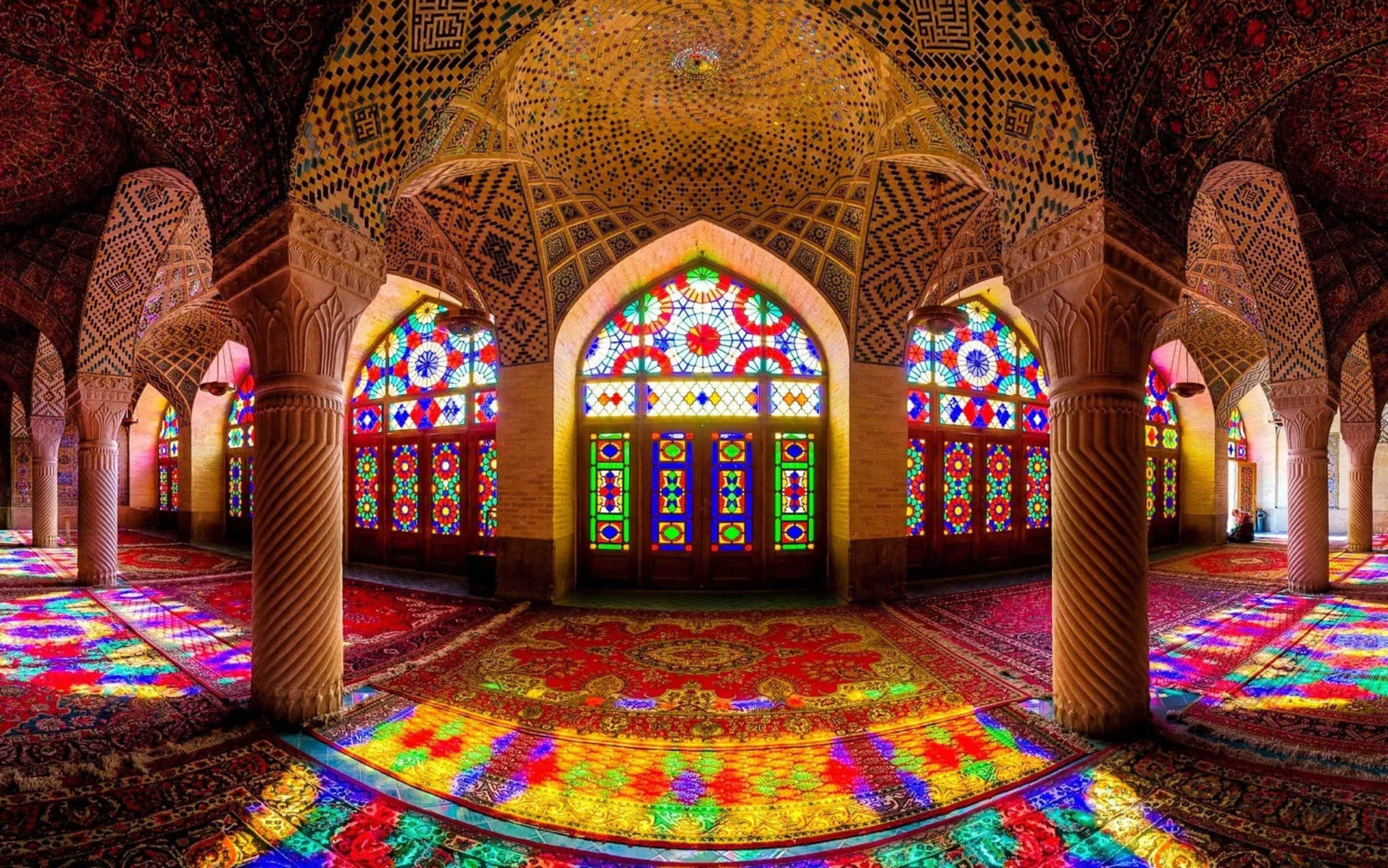 Shiraz, located in the southwest of Iran, is the capital of Fars province. It is the fifth most populous city in Iran with about 2 million inhabitants. As a result, it is the home of religious sites. The top five most beautiful religious sites in Shiraz are Nasir ol-Molk Mosque, Atigh Jame Mosque, Imamzadeh-ye Ali Ebn-e Hamze, Shah-e Cheragh Mausoleum, and Armenian Church. Nasir ol-Molk Mosque is known as the Pink Mosque, which this color is a mixture of Stained-glass windows, colorful tiles, and carpeted floors. Atigh Jame Mosque known as Friday Mosque, attracts many visitors each year. It has a large courtyard with a central cubic structure. Imamzadeh Ali Ebn-e Hamze is the tomb of Shah Cheragh's nephew Emir Ali who also died here while helping Imam Reza. Shah-e Cheragh Mausoleum is the tomb of the sons of Musa al-Kadhim (Ahmad and Muhammad).
Religious sites in Yazd

Yazd is located in the middle of the country, 270km southeast of Esfahan. It is the fifteenth largest city in Iran with more than 1 million inhabitants. Yazd is also on the Silkroad. The top holy places for Zoroastrians are near Yazd, Ardakan (60 kilometers away from Yazd), and Mehriz. Hundreds of Zoroastrians from different parts of the world every year visit these holy places. Yazd is the birthplace of the Zoroastrian religion and is known for its religious conservation.
The Nine most beautiful sights and landmarks in Yazd Province are Old Town, Jameh Mosque, Towers of Silence, Amir Chakhmagh, Zoroastrian Fire Temple, Hazireh Mosque, and Seyed Rokn Addin Mausoleum. The Old Town is known for yellow-brown mud-brick buildings which show the dryness of the city. The Jameh Mosque is the first built under the Al-e Bouyeh dynasty. The Jame Mosque is a sample of Islamic architecture with its blue-mosaic tile work. Towers of Silence is known for the dead bodies of Zoroastrians that were left in the towers. The Amir Chakhmagh is one of the largest "Hosseiniehs" in Iran and is used in commemorative ceremonies for Imam Hossein's death. Zoroastrian Fire Temple is the first Zoroastrian temple in which they made a fire and performed their religious services in this temple.
Another famous Mausoleum in Yazd which is notable for its dome, is Seyed Rokn Addin. It has the largest beautiful dome in Iran. The glorious blue-tiled dome of the tomb of Seyed Rokn Addin is visible from any elevated point in Yazd.
Religious buildings in Isfahan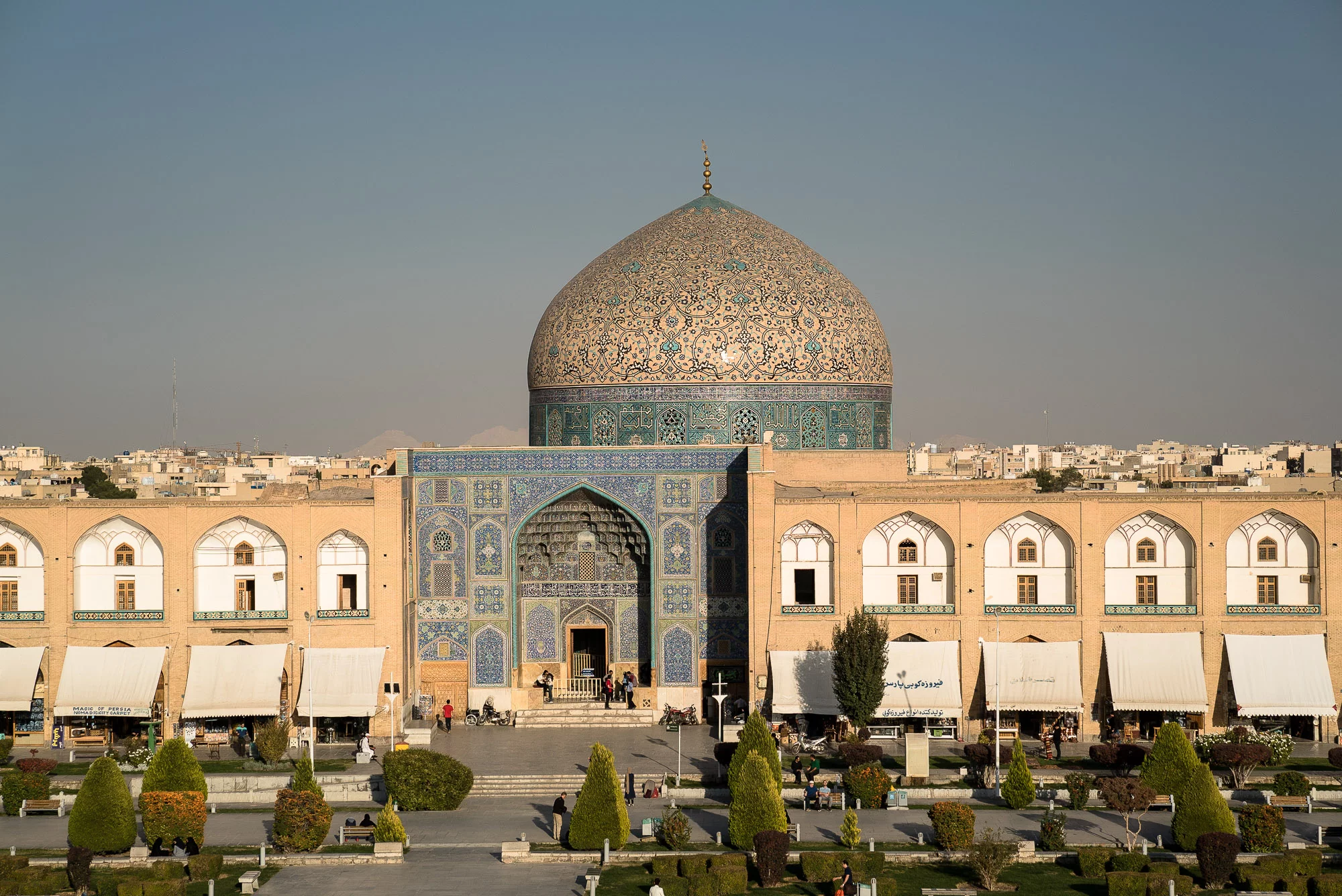 Isfahan, located in the center of Iran, is the third-most populous city in Iran after Tehran and Mashhad. It's home to more than 2 million population, also a holy place in Iran. Its fame is mostly due to the Persian architecture, found in bridges, palaces, tiled mosques, minarets, and grand boulevards. It also has so many historic buildings, artifacts, and monuments. There are so many religious places in Isfahan that hundreds of people from different parts of the world visit them every year.
Naqshe Jahan Square (Shah Square) known as Meidan Emam, is located in the center of Isfahan. It is also one of the famous historical sites in Iran. Sheikh Lotfollah Mosque is one of the architectural masterpieces of Iran which, built during the Safavid Empire. Shah Mosque stands in the eastern part of Naqsh-e Jahan Square. Jameh Mosque is one of the oldest mosques in Isfahan, and it is also one of the grand and congregation mosques of Isfahan. Royal Mosque (Masjid-I-Shah) is also one of the masterpieces of Persian architecture. This mosque is on the south side of Naqsh- e Jahan Square.
Atashgah – Zoroastrian Fire Temple is another religious site in Isfahan. It is located on a hill about eight kilometers west of the city center of Isfahan. Atashgah was inspired by Zoroastrianism, which was the main religion of the two great dynasties of ancient Persia, the Achaemenids, and Sassanids. Hakim Mosque is another older mosque in Isfahan which is named after Mohammad-Davud Khan Hakim.
Religious Places in Tehran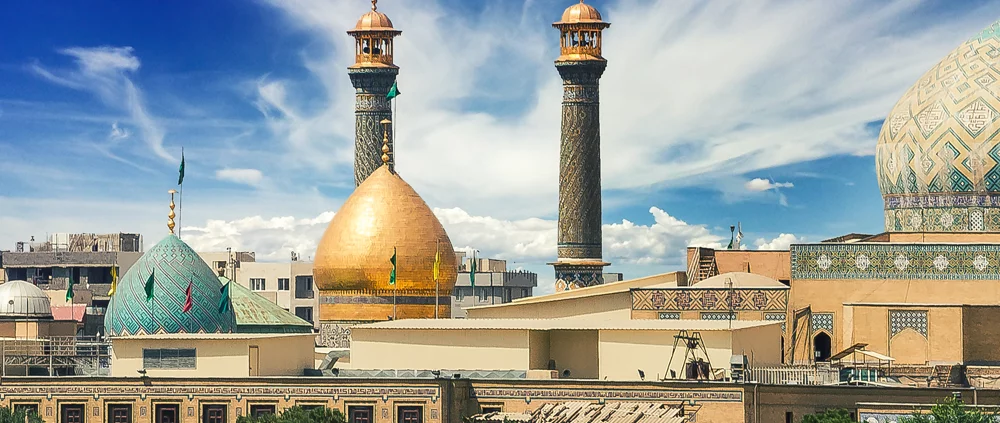 Tehran, the capital Iran, one of the largest and popular cities, is in north-central Iran. Tehran has an abundance of historical and religious places. The seven most beautiful sacred sites in Tehran are Imamzadeh Saleh, Mosalla Mosque Complex, Shah Abdul Azim Shrine, Zoroastrian Ateshkadeh, St Sarkis Cathedral, and Zurkhaneh-ye Ayatollah Taleghani. Imamzadeh Saleh is in northern Tajrish, sites of Imamzadeh Saleh, son of Musa al-khadhim, was someday the resting place of Saleh. Mosalla Mosque Complex is a place of striking manifestation of the Islamic Republic's program. Shah Abdul Azim Shrine is in Shahr-e Rey, South of Tehran, and a critical political center before the rise of Tehran as Iran's bustling capital. In Zoroastrian Ateshkadeh center they burned an eternal flame, which is never allowed to go out. 
Religious sites ChakChak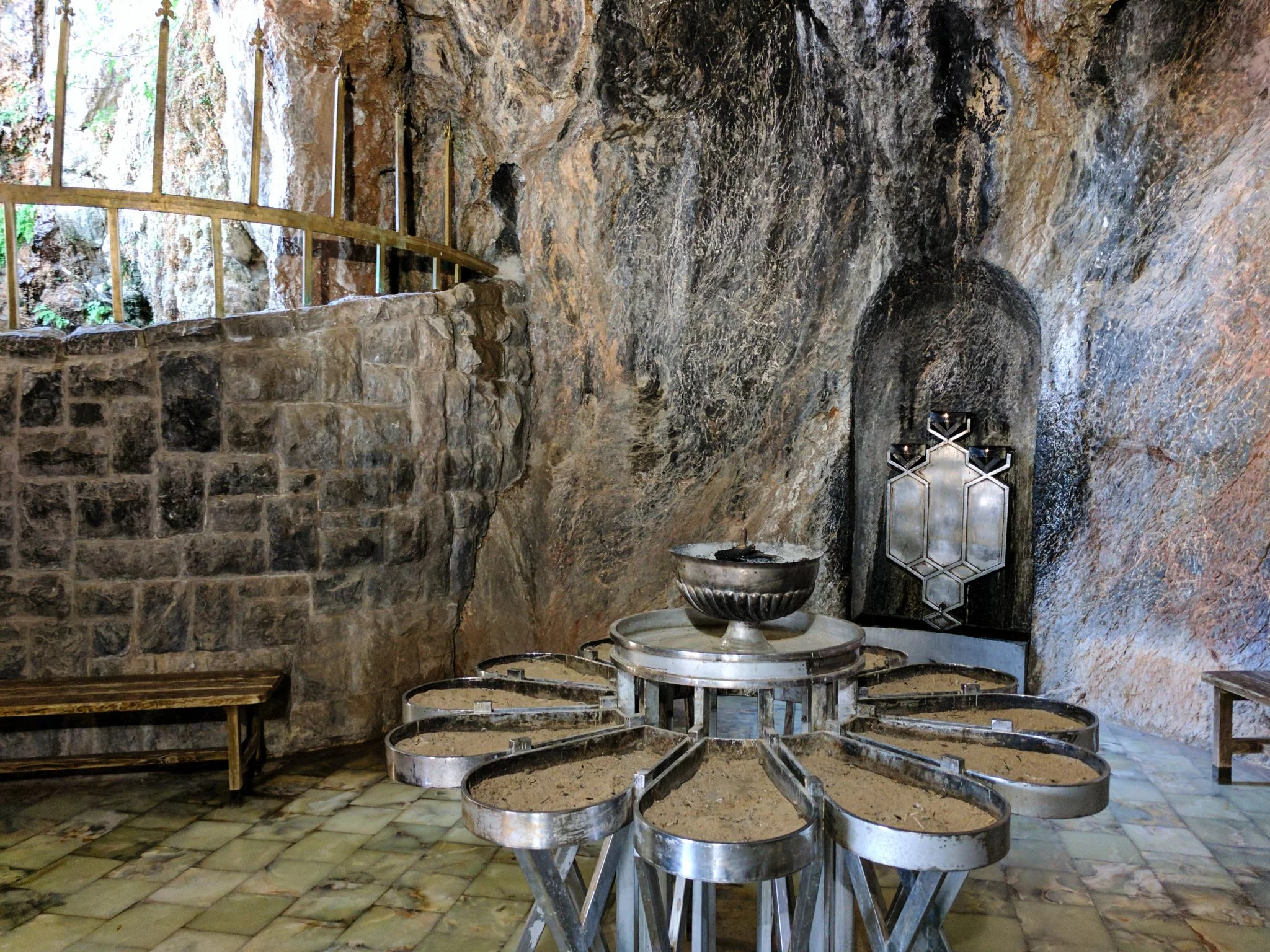 Chak Chak is a small village in central Iran near, Kharanaq in Yazd. The village hosts sacred mountain shrines of Zoroastrianism, the oldest religion of monotheistic faith. Due to its importance and high value, there are special days in the year that they attend in this city. To Zoroastrians, this holy place is visited by pilgrims every 14th to 18th June.
Zoroastrianism was the state religion of the Persian Empire from 600 BCE to 650 BCE. In their belief, Nikbanou, the last princess of pre-Islamic Persian Ruler Yazdegerd III, was chased by Arabs. Nikbanou prayed to Ahura Mazda (Mighty Lord) the Creator and Sole God of Zoroastrianism, to protect her from the invaders. The Lord answered and a miraculous mountain, now the shrine, appeared and covered her. Chak Chak means "drip drip," which is the tears that Nikbanou sheds inside the mountain upon losing her family and home. Chak Chak is sparsely populated, but tourists frequently visit it due to the holy sites and the beauty of the temple.